Implementando Office 365 quasi sicuramente si è incappati in Outlook 2010/2013/2016 e la relativa richiesta password o l'impossibilità di configurare la nuova mailbox su Exchange Online. Ogni sistemista conosce quanto sia gravoso in termini amministrativi risolvere questo tipo di problematiche.
Recentemente è stato rilasciato Microsoft Support and Recovery Assistant tool for Office 365 (SaRA), un tool davvero molto efficace che permetterà ai sistemisti agli utenti finali di risolvere i problemi noti in automaticamente ed immediatamente.
SaRA aiuta gli utenti a risolvere i problemi e correggere le impostazione del proprio account o del profilo di Outlook quando si è attestati ad Office 365. L'assistente esegue una serie di test diagnostici per identificare la causa principale dei problemi, come ad esempio la verifica delle credenziali utente, licenze, aggiornamenti di Outlook o se il server è raggiungibile. A seconda dei risultati dei test, SaRA è in grado di offrire un suggerimento o addirittura di risolvere automaticamente le problematiche emerse.
Tutti i risultati di diagnostica vengono salvati in un file di registro in modo che gli utenti li possano condividere con i loro amministratori di sistema o direttamente con il supporto tecnico Microsoft per ulteriori indagini. Ogni volta che si esegue SaRA , viene automaticamente aggiornato alla versione più recente, in modo che sia in grado di risolvere eventuali nuovi problemi.
In Figura 1 e 2 vediamo la User Interface del tool.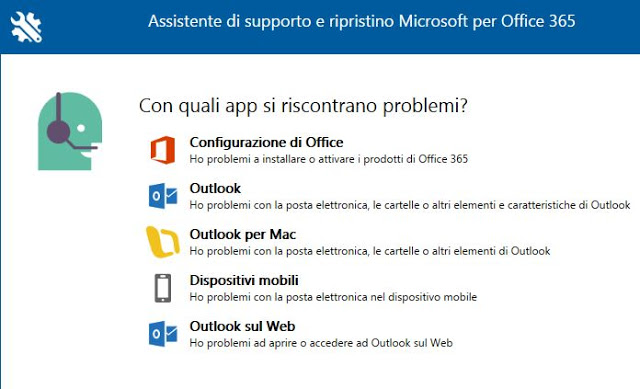 Figura 1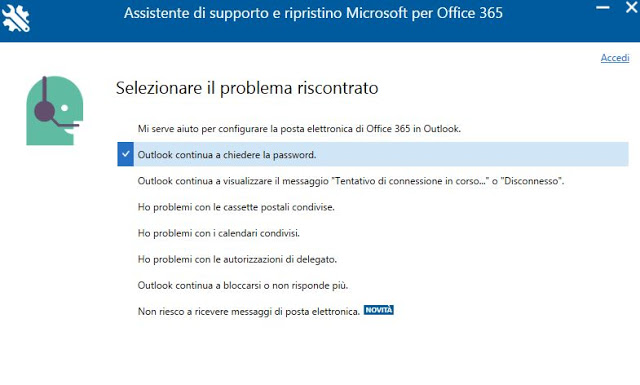 Figura 2

Microsoft Support and Recovery Assistant for Office 365 è in grado di analizzare e risolvere i seguenti problemi:
Problemi con Outlook
Outlook non risponde più
Non è possibile ricevere messaggi di posta elettronica
Outlook continua a chiedere la password
Le cassette postali o i calendari condivisi non funzionano.
Outlook continua a visualizzare il messaggio "Tentativo di connessione in corso…" o "Disconnesso"
Problemi con la configurazione delle app di Office
Dove si installa Office?
Non riesco ad attivare Office
Mi serve aiuto per configurare la posta elettronica di Office 365 in Outlook
Problemi con la posta elettronica di Office 365 sul telefono
Non riesco a sincronizzare la posta elettronica
L'app di posta elettronica continua a chiedere la password
Conclusioni
SaRA è in grado di risolvere molti problemi di Outlook  semplificando l'amministrazione e la distribuzione di Office 365 . Un must have per chi implementa Office 365.